Cultural synthesis among the indian indentured labour of the 19th century
---
Imagine you are on Reunion Island in the 19th century. How would you identify a person's background from a distance? From his/her dress, of course! Dress is among the more visible expressions of culture; language is its essence. Indian indentured labour in 19th century European colonies developed a composite culture that combined elements from various regions, religions, and castes of India. Adherence to culture prevented them from being westernized, and evolved them into a distinct class.  
---
Dress: The Visible Expression of Culture
Contemporary photographs, portraits, art, and descriptions are an excellent source to understand clothing of a particular era.
Take the Mai-Baap (mother-father) memorial in Kolkata (Calcutta) and its identical twin at Paramaribo, Suriname's capital.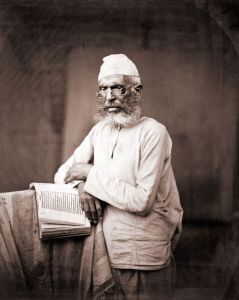 Tunic clad Scholar . Credits: British Library at Wikipedia
Dhoti or lungi covered men's lower bodies.
The optional, loose fitting kurta (tunic) for upper body extended below knees. 
Pheta (turban) protected their heads from the punishing sun. Many simply wrapped their head with a cloth that served as a sun shield and makeshift towel. Turbans in India also indicated social status.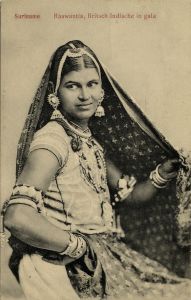 Postcard Portrait of an Indian Woman in Suriname in earth 20th century. Credits: Wikipedia
Women typically wore a saree with a blouse and petticoat.
The traditional Indian women's wear, saree is a long, rectangular unstitched garment. It is wrapped around the waist, and one end pulled over one shoulder.
Normal dimensions are between 4.1 and 8.2 m (4.5 and 9 yards) length, and between 60 and 120 cm (2 and 4 feet) width.
Some examples of Saree
Regional name variations
Down south, blouses are named kuppasa or ravike. North Indians call it choli while the Nepalese term is cholo. The petticoat is variously termed parkar, ghagra, and ul-pavadai.
Gharara
Women wearing a Gharara. Credits: Darogah Abbas Ali at Wikipedia
Gharara originated in the Lucknow region of Upper Provinces (present-day Uttar Pradesh).
A trouser with broad legs that hang out wide from the knees, the gharara is worn with a thigh-length kurti (tunic) and a dupatta or veil covering the head. Odhani/orhani is another rectangular, unstitched cloth that covers the upper torso and is worn over a kurti.
It can also cover the head and face like the dupatta. 
Nostalgia & pragmatism : the driver of cultural synthesis
Coming back to cultural blending, migrants try to create the original milieu, the homeland they left in search of a better life. After all, human beings are creatures more of emotion, less of logic. It is this quest that makes them cling to their old ways. Pragmatism, however, dictates adjustment to the realities of the new land. 
Through this evolves a hybrid culture, similar to the original but also influenced by "other" people's lifestyle in their adopted land. As early as the first half of the 19th century, for example, Indian workers on Reunion were burying their dead, not cremating as earlier.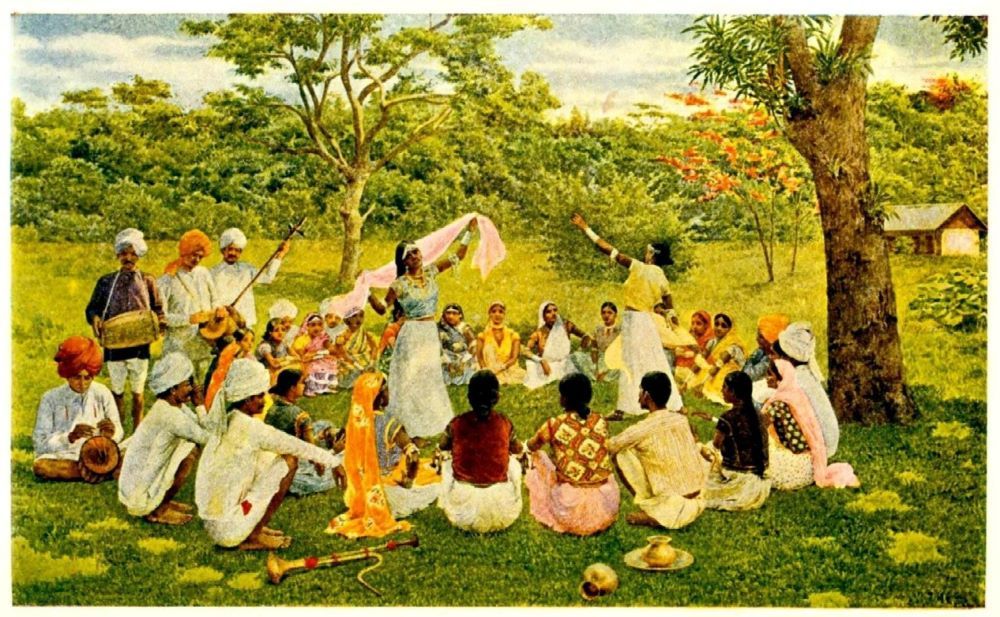 East Indian Indentured Labour Celebrating on a Trinidad & Tobago Estate. Credits: Project Gutenberg at Wikipedia
Maintaining the caste structure in new lands was tough business. Women from the same caste were not always available for marriage. And, having to share living quarters and food without knowing their caste (they came from different parts of India), demolished many social barriers. 
Workers did try to cling to old identities though. For example, when they discovered that an immigrant in Trinidad was a Brahmin, they did his manual work and asked him to undertake religious activities instead. Old habits die hard!
But because culture influences identity, it usually forms the foundation of many a conflict. Identity politics, for example!
Hosty massacre (1884) : culture, identity, politics & conflict
Colonial authorities ordered gun firing on the participants of the Hosay Procession on 30 October, 1884 in San Fernando, Trinidad. The procession violated prohibitory orders issued earlier. Although based on the Islamic Muharram festival, the Hosay Carnival evolved into a multi-religious, Indian festival in Trinidad. 
While the carnival reminded them of Indian village life, indentured workers also used it as an instrument to strike against plantation owners and demonstrate religious unity in Trinidad. Of the 100-plus killed in the massacre, most were Hindus. 
culture across the ages
Although the bulldozer of late 20th century globalization made the English language, shirts, and trousers more common the world over, vernaculars and traditional wear continue to nurture culture. Particularly in far flung regions. 
Culture is the soul of existence, after all!
---