Sewing machines in the 19th century
Part 2: On Reunion Island
---
Why this article ?
We have chosen to investigate this revolutionary tool, which after a particularly rapid and worldwide diffusion, became in the following decades a decorative object present in many homes without being used.
This machine nevertheless reoriented the landscape of the textile industry and profoundly changed the fashion industry in the 19th century.
To help you better understand these changes, I offer you :
- Sewing machines in the 19th century - Part 1: a brief history taking into account the major developments
- in this article, we discover the arrival of the sewing machine on Reunion Island, as well as the changes brought about by this new tool
- and finally, in a third article we explore the same phenomenon on Belgian territory
When are sewing machines imported into Reunion?
Apparently, very quickly...in France
Indeed, in 1851, Isaac Merrit Singer, founder of the American company that bears his name, improved the system that had been developed by the Frenchman Barthélemy THIMONNIER.
The latter had invented a mechanical sewing process in the 1830s. He registered his first patent in 1830, followed by others in 1841 and 1845, as he improved his system of a wheel with a flywheel driving a connecting rod: the back and forth movement of the connecting rod made it possible to move a two-pointed needle up and down.
Singer stands out for its clever marketing, and the easy payments and sewing courses help the "housewife" to acquire a machine and to use it properly
The Singer company obtained a patent for the first sewing machine for domestic use and won first prize at the Paris World Fair in 1855.
"Interior of the Palais de l'Industrie during the 1855 Universal Exhibition in Paris", photograph, unidentified photographer, 1856
Source Gallica BNF
What about on Reunion Island?
As soon as sewing machines were democratised in Europe, in particular with the Singer model known as the "New Family" which arrived in American and European homes from 1865 onwards, sewing machines were imported, at least in 1867.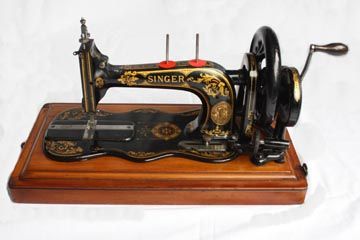 As the bi-weekly newspaper La Malle of 13 January 1867 testifies,
on page 4: a shipment ordered by A. Bonamour with a sewing machine
---
In the first issue of the new bi-weekly newspaper, Le Courrier de Saint-Pierre, Journal de l'arrondissement sous-le-vent, Réunion, dated 3 March 1883,


On the last page - page 4 - there is a small advertisement for a sewing machine repairer, Monsieur Boquet.

In order to be able to have such an activity, there must be sufficient distribution and use of these sewing machines.
---
Which models?
It seems quite possible that these are the portable and functional models from Singer, operated by hand or by a pedal
They may also be Peugeot sewing machines: the firm produced its first model in 1867.
Subsequently, in 1876, Peugeot sewing machine models won the gold medal at the Universal Exhibition in Paris. They competed with Singer machines and those of other manufacturers around the world. The exhibiting manufacturers from Reunion - Isautier, LeCoat/Trévise, for the south - also participated.
The improvements made by Peugeot concerned in particular the drive mechanism of the sewing machines, which was composed of a double pedal. At the time, jokes were made about the dubious effect of this mechanism, which was considered capable of "giving sensations through its smooth and regular movement". Peugeot then developed the drive by a mobile plate.
Le développement de la machine à coudre est tel que, vers 1890, 8 foyers français sur 10 en possèdent une, et il semble bien qu'à La Réunion, le développement ait aussi suivi une pente ascendante.
The profession of seamstress
After the abolition of slavery, the fear of vagrancy and prostitution was great. Therefore, freed persons were obliged to have a contract of employment or a professional booklet by a decree of 6 December 1849.
This obligation, which was initially also intended for women, disappeared in 1852.
The dressmaking trade developed: it was a good opportunity to open a workshop - or to work at home - for the women, freedmen of 1848, and the indentured servicemen who decided to stay on the island once their indenture had expired.
It is also likely that the families of the great sugar industrialists or planters (Isautier, K/veguen, Lesport, Nas de Tourris, Bellier de Villentroy, ... ) equipped themselves with this state-of-the-art item for the dresses of their wives and daughters, and for the making of their costumes, even though they also bought the latest clothes when they travelled to mainland France, especially since the opening of the Suez Canal in 1869, as from then on, journeys were made in one month instead of three months as before.
A survey of the civil registers of Saint-Pierre - marriages and births - for the year 1855 shows that about a third of the married women or young mothers declared themselves to be "seamstresses".
Thus, for example, Marie-Hélène who was 19 years old in 1848, when she was freed. She later married Auguste JETTER, a wheelwright in Saint-Pierre.
Marie-Hélène Eauxbon was 26 years old when she gave birth to a beautiful boy, Augustin, and declared herself a "seamstress" at the civil status office
Other examples include Nathalie Smith, 22 years old in 1855, a dressmaker in Le Tampon.
Henriette Ganova, almost the same age, worked as a seamstress in rue de la Plaine ...
Where did these young women learn to sew?